Holy wow, I didn't intentionally mean to be away for so long, but life got in the way, and well I was an awful neglectful blog parent. Call Blog Protective Services on my sorry self. Oh well, I'm back!
I was out of "beauty world" and have been spending a lot of time in "renovation/redecorating world". I'll be moving into a new place (when? whenever it's ready) and since I have a very good "in" with my land folks (hint: they are also my regular folks) I have creative control to do... well, close to whatever I want (within reason, mind you.)
I love searching "interior design" on We Heart It!
I have a little list of things I'd like to save up for and change down the line (that list keeps getting bigger...) but for now I've been deciding on the basics, like paint colours. I thought I was 100% sure on what I wanted, until I saw all of my options. I have gotten it all settled now though, a palette of grays and blues with white trim. Are you as nosey as I am? Want a sneak peak at my colours?
Kitchen/Living Room (it's open concept)
Shore Line
Office/Trim/Ceilings Snow White (pretty self explanitory)
Any way, on to the point of this post... I am going to have to erm... adjust my spending habits a fair bit to be able to make my new digs all that that they can be, which will be a wee bit blah-zay, but I know I can do it. I recently revamped my summer wardrobe, but realized my accessories could use a bit more spark. I love fashion and accessories, but my personal style is rather plain. Not to say I don't accessorize, but I usually lean more towards actual fine jewelry pieces that are classics and less trend driven. I decided I'd get a few more "fashion" pieces that are a bit more fun. Where to find cute and interesting baubles? Ebay to the rescue! I used to Ebay a fair bit, but a few years ago, my account and email were hacked and it scared me away. I've since gotten an extra secure password and paypal only bank account and am totally back on the Ebay train.
For just a few dollars- each item I got was under $10, most under $5- you can score some really cute little gems
Robo Necklace $3.75 (free shipping)
Rhinestone Panda $0.60 ($4 shipping)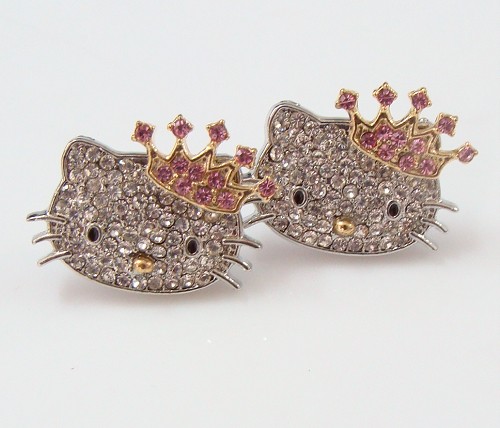 Royal Hello Kitty Studs $3.85 (free shipping)
Octopus Studs (I got silver) $3.67 (free shipping)
AB Crystal Fireball Studs $10.50 (free shipping) My most "pricey" item
And possibly a few other little things as well. I love that so many sellers offer free shipping!

A few of my tips to get the most out of your Ebay-ing:
- Know what is the most you are willing to pay for something before you bid- only consider going higher if the item is super rare. For the items I was going after there were multiple listings so I had a lot of options.
- Look around, there is no rush- check a ton of listings for similar items to get the very best deals possible.
- Show "Free Shipping" listings only- that way you won't get your heart set on something that costs a fortune to ship, because you won't see it.
Of course now I'm ever so patiently awaiting all my little parcels... part of the excitement I suppose! Where do you get your fashion accessories? Do you Ebay?